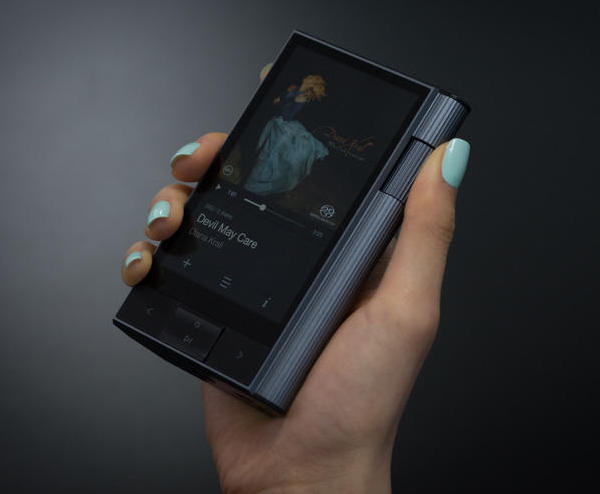 Music player Gods Gathered: Astell&Kern SP1000, SR 15 and KANN
When the history showed 1877, Thomas Edison had found the first among the inventions that he would make all his life. So much so that this device was doing something that no one had witnessed before: playing music. We are talking about the years when people were not surrounded by an ever-evolving and never-ending movement of technology. We can only guess at how strange they might find the sound of another human being or a musical instrument coming from a device, a non-living being.
143 times have passed since the gramophone was discovered. In this short period of 1.5 centuries for world history and a long time for human history, Gramophone has experienced great changes. The gramophone was first replaced by cassettes and tape decks. Then came the CD and CD-Player with the 90's. Along with the 2000s, traditionally called music players that can play music without the need for any physical content (cassette, CD, etc.) and that we always carry with us entered our lives.
A brand that puts its name at the top of the music player brands draws our attention here. The iRiver company, which produces the music player, which is known as the first "MP3-Player" in history, produces Astell&Kern, the best music players in the world, for all music lovers.

Today we will review the latest models of Astell&Kern, SP1000, SR 15 and KANN.
Who is Astell&Kern?
Astell&Kern is the most important and up-to-date music player brand of iRiver, which was founded in Korea and has been operating since 1999. The company, which produces the world's first MP3-Player under the iRiver brand, has been operating in this field, which has been its sole focus for many years.
iRiver is one of the companies that does not stand out as a brand, but highlights the brands they produce. We can think of it as the fact that many market brands are affiliated with a single company, especially in the FMCG world, and people do not keep these companies that produce market brands in mind too much. That's why we asked the question "Who is iRiver?" not "Who is Astell&Kern?" we asked. However, in the description part, it would be impossible not to mention this experienced Korean company that created this brand. :)
After a little Astell&Kern briefing, let's move on to our product review.
First glance
Astell&Kern is a brand that combines technical superiority with extraordinary design. Of course, the design doesn't just end with the product. The box of the product is also presented in a very stylish way in all models.

The first time we touch the product, the feeling of weight, the shape of the box and the colors chosen are the details that summarize from the very beginning that you have made the right choice.

Box Content (

A&ultima SP2000)

:
1 x Astell&Kern A&Ultima SP2000 Music player
1pc Leather Case
1 x USB-C Cable
4 Screen Protectors (2 Front & 2 Back)
1 microSD Protection Container
1 Astell Pin
1 Warranty Card
1 Quick User Guide and other documents
Box Contents (KANN Cube

)

:

1 Astell&Kern KANN Cube Music player
1 x USB-C Cable
4 Screen Protectors (2 Front & 2 Back)
2 microSD Protection Containers
1 Warranty Card
1 Quick User Guide and other documents
Box Content (

A&norma SR15)

:

1 x Astell&Kern A&norma SR15 Music player
1 x 5-Pin Micro USB Cable
4 Screen Protectors (2 Front & 2 Back)
1 microSD Protection Container
2 Warranty Cards
1 Quick User Guide and other documents
Design and Usage:
The music player/source is at the top of the need for lossless music listening. Because in order to reach lossless music/sound, it is necessary to listen to the music with a good source. Astell&Kern has been developing products that cater to the needs of audiophiles for years as the best - no exaggeration here - the most premium music player on the market right now.
Astell&Kern places a flawless design to match the technological superiority of these products at the focal point of the company culture. Therefore, it determines a different concept in each new series and designs its products accordingly.
The word Astell means "Star" in Latin, while the word Kern is a German word meaning "Center". In other words, the brand sees itself as the "Center of Music" here.
A&ultima SP 2000:
The focus of the design is the processing of natural stones in nature by the professionals of the business. With the principle of reflection of sound from matter, A&ultima SP 2000 is a natural gemstone for Astell&Kern that reflects its properties on its surface, just like the reflection of light from a surface.
The wheel, which provides sound and other controls and is located on the side surface, is made of stone representing a precious natural stone.
The outer surface is made of stainless steel/copper. In fact, this situation technically provides protection against shocks and impacts from the outside.
KANN CUBE:
KANN's design is handled differently from all other Astell&Kern products. During the assembly of the product, the parts are attached to the aluminum body in such a way that they do not move in any way. This offered a durable product for a long-term use.
A&norma SR 15:
At the center of the design are the interconnected rectangles. Sharp, clear, and carefully crafted angles describe space and all the tones that will fill it.
No matter what angle you look at it or which hand you hold it with, the visibility of the screen will not decrease. The rectangular structure on the front screen matches the glass plate on the back surface. The rectangular reflections that occur when you look at it from every different angle represent different reflections of light in the three-dimensional universe.
Sound Quality:
Let's talk about the distinctive sound quality of such an extraordinary product. The output philosophy of Astell&Kern products comes from "Studio Quality Sound", that is, MQA. In other words, Astell&Kern wants you to hear what the musicians hear in the studio.

We can say that the sound quality of Astell&Kern music players really makes a difference. While listening to the music on Tidal (we will talk about it later in the article) or the high resolution music you put in the internal memory, you will hear such a big difference that you will understand why MQA is so important.
Thanks to the AKM brand DAC chips used in the products, even non-high resolution recordings will sound much different than what you listen to on a standard music player, smart phone, etc.
This success is directly proportional to the technology and parts used by Astell&Kern. Let's take a look at these high quality parts and technologies that create high quality.
Features:
DAC Performance:
DAC (Digital to Analog Converter) is the chip responsible for converting a digital signal to analogue, that is, converting sound into audible signals. Therefore, it is one of the most important factors affecting sound quality.
A&ultima SP2000:
Music player Asahi Kasei (AK) series DAC's most up-to-date and powerful, the AK4499EQ, which uses 2 of the model, provides the highest level of performance in the Astell&Kern world. These DACs provide excellent and game-changing performance using the latest technological advancement "Output Stream Architecture" technology.

SP 2000 stands out for the first time in Astell&Kern's history as a model that uses two separate channels as right/left. Both DAC stages are divided into 2 separate channels, providing 2 balanced and unbalanced outputs for left and right in total.


KANN Cube:
The music player uses the ES9038PRO SABER PRO model DAC of the ESS DAC brand. This powerful DAC stage provides 8-channel performance for left and right. This offers a performance with a deeper and unlimited soundstage. Here, there is no distinction between balanced and unbalanced for right and left.


SR 15:
The music player uses the CS4198 model DAC of the Cirrus Logic DAC brand. Thanks to this DAC stage, which is at the MasterHIFI™ level, it offers effective performance. This DAC chip, which is used for the first time in portable devices, is very successful in transmitting music faithfully to the original. Get crisper and warmer sounds with no distortion.
Bit to Bit Playback:
In the audio world, the expressions we call "Bit Depth" and "Sample Rate" give you very clear information about quality. Sample Rate (192kHz, 384kHz) represents how many audio samples are made in one second, briefly, of digital to analog converted signals. The more samples per second, the higher the quality. Bit depth, which we see as 16-24-32, also tells us how many bits are recorded in each sampling. Again, the higher the numbers, the higher the sound quality.
Astell&Kern SR 15 audio player 24bit, 192 kHz

Astell&Kern

KANN music player 32 bit, 384 kHz

Astell&Kern

SP 2000 audio player 32bit, 768 kHz
It offers a high resolution sound performance.
In addition, the Astell&Kern SR 15 music player allows you to listen to content with 32-bit depth in 24-bit with "Downsampling" technology.
DSD Support:
All three devices have the format we call Natural DSD (Direct Stream Digital). To explain DSD, its lowest version has 64 times more resolution than CD resolution.
The SR 15 has DSD 64, while the KANN DSD256 and SP2000 have DSD512, which is the cutting edge in technology. In other words, we can say that it has a playback feature of 22.4 MegaHerz. In short, it can sample 512 times more than CD quality. It takes 22.4 million samples per second. We'll ask you to speculate on the quality you might hear, but it's impossible to tell without trying. :) Therefore, if you have the opportunity, we recommend you to go to Hifilife stores in Istanbul.
Processor Status:
Here, processor capability is one of the factors that sits at the center of all audio performance. Because playing the DSD format, "Bit To Bit", that is, lossless transmission from bit to bit, "Downsampling" feature, "Distortion", "Noise", the prevention of bottom noises and distortions are related to the processor.
Of course, the fact that the interface can be used in a fast and user-friendly way is directly related to the processor.
The SR 15 and KANN models use a powerful 4-core processor type. An 8-core processor structure is used in the SP 2000 model.
Storage Space:
All 3 devices use storage areas that directly match their needs.
Astell&Kern SR 15 music player offers 64gb internal / 1 terabyte external support

Astell&Kern

KANN music player supports 128gb internal / 1 terabyte external

Astell&Kern

SP 2000 music player offers 512gb internal / 1 terabyte external support
Mini XLR Output (KANN Cube)
KANN Cube distinguishes itself from other models and, thanks to the mini XLR support it contains, perfectly performs the task of minimizing the noise in the signal, which is one of the biggest advantages of XLR connection.
Using USB as Source (SR 15)
Astell&Kern A&norma SR 15 model can be a music storage device for your digital sources thanks to its USB Audio feature, and this music can be broadcast via USB.
Dual Band Wi-Fi / 2.4 - 5 GHz (SP 2000)
A strong network connection will be important for your device, as music streaming platforms are popular and now offer powerful content. Astell&Kern A&ultima SP 2000 allows you to receive & transmit stronger Wi-Fi signal and listen to the best content at high speeds with its dual-band Wi-Fi access and 3-way antenna.
Conclusion:
If you want to listen to music with the best possible quality in terms of sound produced by a device, namely Studio Quality Sound, Astell&Kern should definitely be your first choice. Positioned as the best among music player brands for more than 20 years, Astell&Kern will improve itself and update its products with the latest technology every year, allowing you to listen to the same quality as music studios.
Hifilife Review Team